We are open for dine-in, curbside and carryout, five days a week (closed Monday and Tuesday).
Our hours of operation are listed on our home page.
We continue to offer our full menu, as well as daily specials and new family packages.

Family Packages

Cavatelli con broccoli for 4 people-$48
Tortellini for 4 people-$50
Add House or Caesar salad for 4 people-$15
Chicken Parmesan for 4 people (includes salad and pasta)-$65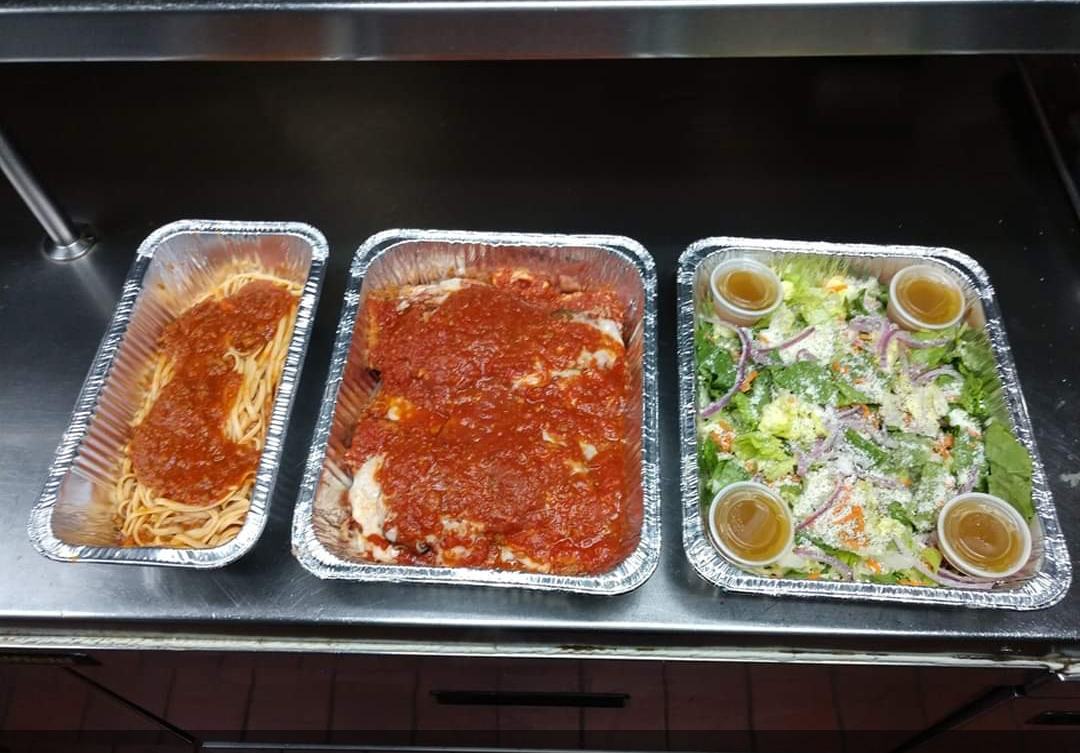 How long has Gian-Tony's been in business?
Gian-Tony's Ristorante is a family owned establishment that has been proudly serving the St. Louis area since September 10, 1989. Owner and head chef Tony Catarinicchia personally prepares meals for everyone's enjoyment.
What kind of food is served?
Tony Catarinicchia prepares Southern Italian cuisine which includes pasta, veal, chicken, seafood and beef. All entrees except for the pasta entrees come with a side dish and a Gian-Tony's salad.
What is the price range on the entrees?
Pasta entrees range between $12.75 to $16.00, Chicken entrees range between $17.75 to $18.50, Veal entrees range between $20.75 to $22.50, Beef entrees range between $27.50 to $28.50, Seafood entrees are at market price.
Is there a private dining area?
Yes, there is a private room. The capacity holds up to 30 people. We also have two other dining rooms that seat up to 40 and 60 people. For larger parties, there is a selected menu of 3 items that are chosen by the customers. A menu will will printed for each of your guests describing each entree from which they may choose. Also, you may select any variety of appetizers from our menu for your party. Appetizers are typically served family style. We offer our full dessert menu. Beverages are all charged by consumption. Coffee, tea and soda are free refills. An exact count is needed 3 days before your event. We do require a credit card number to reserve any of the dining rooms. There is a cancellation fee of $250 if you cancel your party within one week of your date. Fridays and Saturdays we do charge a room fee of $550 if you do not meet the minium amount of people. In the room that seats up to 30 people you must have at least 25 people in order to avoid the room fee. In the room that seats up to 60 people, you must have at least 50 people to avoid the room fee. The reason we charge this fee only on Fridays and Saturdays is due to the number of customers that dine with us on the weekends. There is not a room fee for private parties Sunday thru Thursday.
Is there an outside dining area?
Yes, there is an outside dining area that is in front of the restaurant under a canopy for your enjoyment. If customers choose to sit outside, they will have a great view of Berra Park.
Is there a smoking area?
We are completely smoke free. Smoking is only allowed outside.
Are reservations required?
Reservations are not required but are recommended especially on the weekends. Walk-ins are welcome at any time, but sometimes without a reservation there might be a little wait. We have a full bar so customers can enjoy a cocktail while their waiting. Ray the bartender is known for his excellent martinis.
Does Gian-Tony allow seperate checks?
There are no separate checks and we can accept a maximum of 4 credit cards per table. We accept Mastercard, Visa and American Express. Gratuity is also added for parties of 6 or more.
What is the dress code?
Casual
What is the specialty?
In addition to our extensive pasta entrees, Tony hand cuts his filet and veal himself. Tira Misu is our specialty. It is a homemade dessert that includes ladyfinger cookies dipped in Italian espresso and liqueurs, mascarpone cheese, homemade whipped cream, topped with a layer of cocoa.